This work, together with Mickolus's Literature of Terrorism: A Selectively Annotated Bibliography, published in 1980, provides the most comprehensive bibliography on terrorist violence available in print. Terrorism, 1980-1987 concentrates on material written during the 1980s, a period which has seen an enormous outpouring of commentary and research on terrorism and terrorist attacks.
In addition to surveying journalistic, social scientific, and traditional historical studies in some dozen languages, the book also includes the fictional literature of terrorism, offering a broad cross-section of research and opinion on the subject.
The material is organized into sections based on region and functional categories, enabling the researcher to compare quickly developments in specific topics. Coverage ranges from general treatments of terrorism and tactics of terrorists to material that deals with the terrorist infrastructure, terrorism in specific geographic areas, and responses to terrorism.
The compilers have made special efforts to include items from publications not often cited in terrorism studies, both to give the reader an indication of the breadth of material available and to offer insights into the pervasive effects of terrorism on all aspects of life.
Title ‏ : ‎ Terrorism, 1980-1987: A Selectively Annotated Bibliography
Authors ‏ : ‎ Peter Fleming, Edward Mickolus
Publisher ‏ : ‎ Greenwood
Publication Date ‏ : ‎ April 21, 1988
Language ‏ : ‎ English
Hardcover ‏ : ‎ 323 pages
ISBN-10 ‏ : ‎ 0313262489
ISBN-13 ‏ : ‎ 978-0313262487
Item Weight ‏ : ‎ 1.5 pounds
Dimensions ‏ : ‎ 6 x 0.88 x 9 inches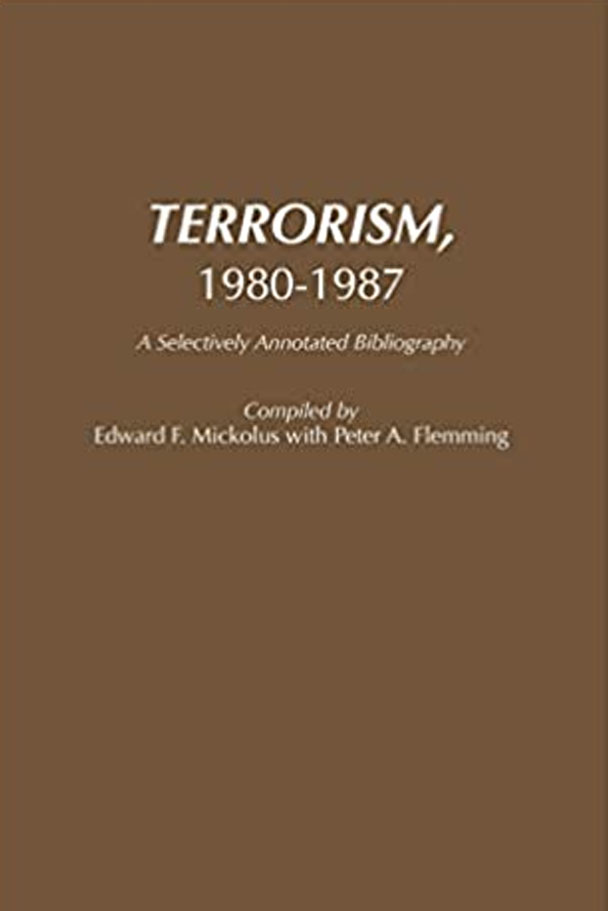 Review
"Students of the literature of terrorism now have a choice: Amos Lakos's excellent International Terrorism: A Bibliography (CH Apr'87) or this revision of The Literature of Terrorism: A Selectively Annotated Bibliography (CH, May '81). Each has its strengths and weaknesses, but most graduate collections will want both. . . the Mikolus volumes include non-English citations, and Lakos does not. Both bibliographies include chapters in edited works, a very valuable edition. . . The content of both bibliographies is excellent; each includes enough unique material to make the purchase of both a wise decision." –Choice